March 17, 2016
Blog Femke & Olivier – Our first week in Kenya!
Blog Femke & Olivier:
Our first week in Kenya!
Femke and I have been in Kenya for a week already and have seen a great deal! In Nairobi we stayed at an Eco Camp for three nights in safari tents. On day one we went directly to the local mall to buy essential items; water and SIM cards. We also visited the ACC (African Conservation Centre) to get to know our local contacts, Benson and Lucy. Afterwards we visited friends of my parents and walked in a local forest. In Nairobi traffic was really crazy, each taxi driver told us that they liked Nairobi but despised the traffic. This became the standard story we heard from each taxi driver.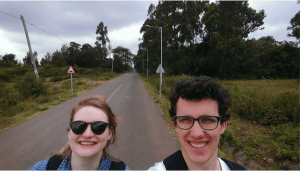 Since 10 March we are in Amboseli National Park. It is wonderful here, and so far we have had clear skies and not a single drop of rain. Of course, we are here to do measurements directly related to rainfall, so actually we are excited for the first showers! We have been able to find a car and driver for a reasonable price but we haven't yet found rangers who can join us into the plots for security. So far we are testing our equipment. I am glad we did, as we encountered several problems. One of these was the lack of a filter in two of the tipping buckets (a tool to measure rainfall), allowing small particles to build up inside and block the flow of water… not ideal for a rain gauge. Our solution: tightly rolled mosquito netting. In our opinion, it's even better than the standard filter. The tipping buckets are unknown objects to many here in the park; especially the Vervet monkeys had a keen interest in them! Until the next update!