October 13, 2021
Breakdancer Jeroen breaks world record: 25 km of cartwheels while raising awareness for Justdiggit!
There are numerous ways you can contribute to a cooler and greener planet. European breakdance champion Jeroen van der Linden (31) created a unique initiative. He started a fundraiser for Justdiggit while breaking a world record: 25 kilometers of continuous cartwheeling! While achieving this fantastic goal, he was raising awareness and mobilizing people to support the fight against climate change. 
Jeroen began his cartwheeling journey on Monday morning at 08:00 in Gorinchem. The original plan was a route of 30 kilometers (12,000 cartwheels!) to the city center of Nieuwegein. In the end, Jeroen covered 25 kilometers and broke the official world record! His team Breaksquad Crew was there to support and encourage him, as did all the other supporters from the sidelines.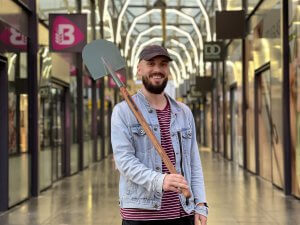 Bundraiser
"There is only one thing that is really important right now, and that is turning the climate around. This applies to us as well as to our children. We want to improve all kinds of things, but the climate is just important," Jeroen said. That is why he connected a bundraiser to his cartwheel challenge: a fundraiser in which you raise bunds instead of money.
Live stream
Jeroen raised 420 bunds during his performance. "Donate and support the world. Change the world today. Not tomorrow. Not next week," Jeroen said, after accomplishing 25 kilometers of cartwheels and slumped to the ground: he now carries the world record! Jeroen's challenge was followed through a live stream. "It was one hell of a journey. It's all I got, my body is empty. Thank you for supporting me."
Dig in!
We are incredibly proud of Jeroen, his achievement, and of everyone who has supported Jeroen by donating bunds. Did Jeroen inspire you? Or do you have your own ideas on how to contribute to a cooler planet? Read more about how you can support on our campaign page. Together we can cool the earth, Dig in!