September 15, 2022
Children's book written by Yannick van de Velde & Bart van den Donker
Publisher Rubinstein and Justdiggit present: 'From the North Pole to Nairobi. A very cool adventure'. A hilarious climate book by Yannick van de Velde (RUNDFUNK, Undercover) and Bart van den Donker (Soldaat van Oranje, Het Klokhuis) with a positive message: It's not too late! For every book sold, we can make 150m2 of dry land green again.
The book makes children aware of the consequences of climate change by using humor and a comprehensible style of writing. That is quite a difficult task but Yannick van de Velde and Bart van den Donker prove this can be done via their first children's book! In 'From the North Pole to Nairobi' kids learn through a cool, adventurous journey that we are all connected via the same planet we live on. And that it's not too late to save the earth!
"Our goal is not to scare or frighten children, but rather to introduce them to what is going on with the climate and what we can all do about it in a humorous and absurd way. Because sticking your head in the sand is no longer possible when the ground is too dry", the authors said.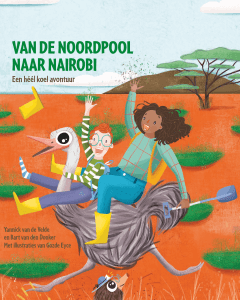 About the book
Isabelle has to give a presentation tomorrow and her best friend Laurens is coming to help her. Then, suddenly, they hear digging and rumbling and the mole Mr. Santos sticks his head up through the floor. He is quite lost: he has to get to Nairobi! The children and the mole decide to help each other and that is the beginning of a dizzying adventure. While digging, they meet a polar bear who is too cold, an ostrich suffering from the extreme drought, a rain-dancing crane and a bunch of monkeys who don't like bananas.
The book closes with a non-fiction chapter explaining the effects of global warming and why even 1.5 degrees Celsius is too much. It also includes cool tips on how children themselves can take action.
Greener and cooler planet
Those who buy the book contribute directly to a greener and cooler planet: For every book sold, Justdiggit can make 150 square meters of dry land in Africa green again. The book is written for children ages 7 and up. At this point, it is only available in Dutch. But don't worry: An English translation is in the making.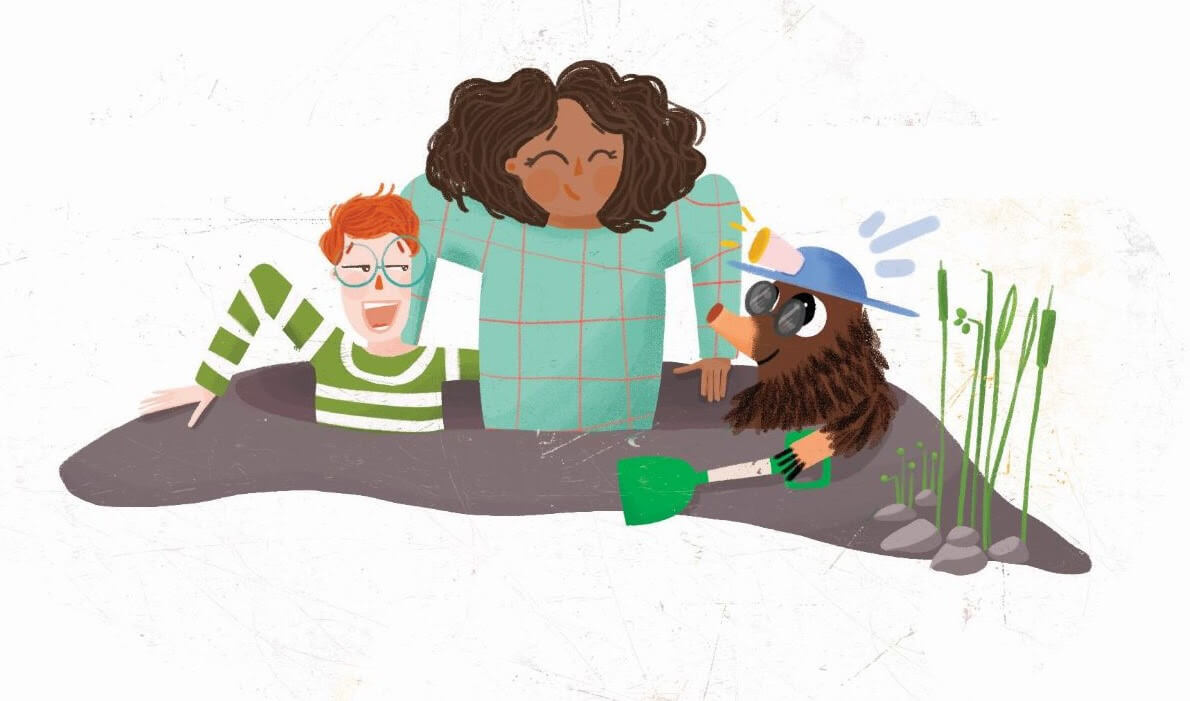 About the creators
YANNICK VAN DE VELDE is a Dutch actor and cabaret artist. He became famous for his role in the film 'In Oranje'. He also played the lead role in 'The letter for the king'. In 2012, Van de Velde has formed the duo RUNDFUNK with his classmate Tom van Kalmthout, with whom they have toured all the theaters in the Netherlands with their absurdist form of humor.
BART VAN DEN DONKER graduated from Amsterdam's Drama school & Cabaret academy in 2016 and has since been working as a writer and actor. Among others, he played at theater group De Appel, in 'Soldaat van Oranje – The Musical', and also at theater group Oostpool. He currently acts as a drama consultant for Het Klokhuis
GOZDE EYCE has been drawing since she could hold a pen and has been a full-time illustrator since 2018. She is from Turkey and lives in Rotterdam. She has already created over 40 books with publishers from all over the world. Her preference lies in contributions to projects related to a better world, sustainability, and equality!