April 7, 2022
Study: How we really feel about Climate Change
Inspiring and activating millions of people globally to regreen and cool down the earth together. That's one of the missions of Justdiggit. To achieve this mission, it's important to get more insight into the attitude and beliefs of people towards climate change. Because, only when people are open to the message we aim to convey, they can become inspired and activated to join the regreening movement. To better understand what the attitude towards climate change is nowadays, we conducted three studies together with partners Havas Media and MSI-ACI Europe. Within the studies, people from various European and African countries were asked about their opinion on the changing climate and their willingness to change their behavior to tackle it. Curious about the outcomes? We will tell you all about it!
The Netherlands
The study started off with a questionnaire focused on the Dutch public. What do they think about climate change? And are they willing to change their behavior to halt the changing climate?
The study showed that overall women and people from 18-35 years in the Netherlands are most involved in climate change1. When questioning whether a greener future also means a better future, more than two-thirds of the respondents agreed with this statement. Furthermore, almost two-thirds of the people surveyed said that they think nature-based solutions can help to counteract climate change (1).
Despite the relatively big group of respondents that believe in climate change and feel like nature could be a solution to it, there is also quite a large group of younger people that do not believe in climate change at all. Almost a quarter of the respondents from 18-35 years agreed with the statement that 'climate change doesn't exist (figure 1). A quarter of this group also stated that we are already doing enough to combat climate change.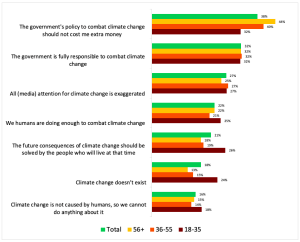 Figure 1: Different statements about climate change-related subjects with the % of respondents agreeing with the statement. Three different age groups and the total respondent group are displayed (1).
More than two out of three of the Dutch respondents in the study think that we, as humans, can act against climate change1. But what are we willing to do to combat it? It was shown that the Dutch respondents are willing to change their behavior as long as it doesn't take too much effort. Day-to-day actions like separating (81%) and reducing waste (68%) are often chosen as activities to become more sustainable1. Actions that cost more money like buying secondhand clothes (32%) and eating food that has been produced in an environmentally friendly way (26%) are less popular.
When asked if the respondents think there is a relationship between the recent natural disasters facing the earth and climate change, almost half of the respondents (47%) stated that they believe that there is indeed a relation between those two factors (1). This percentage is highest amongst women and younger people. However, a third of the respondents did not believe in this relation.
Germany & the UK
In the second study, we not only included Dutch respondents but also included respondents from two other European countries: The UK and Germany. The main question was: Do people from different countries have different attitudes toward climate change?
Overall, the respondents from the three different countries had the same attitude towards climate change (2). However, a cultural difference was seen in the thoughts about how we need to tackle climate change (figure 2). Where only almost one out of three of the Dutch respondents think the government is fully responsible to combat climate change, more than half of the British and German respondents see it as a task for the government to halt the changing climate (2).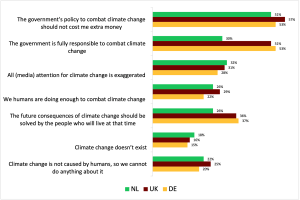 Figure 2: Attitude of the Dutch, British and German respondents towards climate change (2).
The actions that are taken to tackle climate change also differ between the various countries. For example, the German respondents said that they focus more on food-related actions, while the Dutch respondents noted that they are more focusing on the isolation of their houses, sustainable energy, and water reduction (2).

Kenya & South Africa
The third study was conducted in two African countries: Kenya and South Africa. As Justdiggit we aim to inspire and activate millions of farmers in this continent to start regreening their own lands. But how do the people in these areas feel about climate change, and do they think vegetation can help to restore the soils in Africa?
Over the years, the number of natural disasters has increased throughout the African continent. The study showed that in Kenya and South Africa almost three-quarters of the respondents believe climate change is the reason for these natural disasters (3). Moreover, most of the respondents in both countries said that they also believe that they can help themselves to reverse climate change.
The solution of Justdiggit to reverse climate change is to bring back vegetation in degraded landscapes. Most respondents in both Kenya and South Africa stated that they also believe in the positive effects of this nature-based solution (figure 3). In Kenya, this belief is a bit stronger than in South Africa, which is probably because more Kenyan people live off the land and thus see the effect of the solutions directly.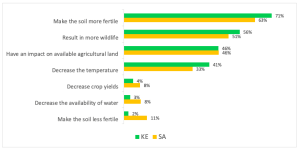 Figure 3: Expected impact of bringing back vegetation to the environment by Kenyan and South African citizens (3).
Conclusion
Luckily, in all countries studied, most people believe the climate is changing and feel like we need and can do something about it. Especially in Kenya and South Africa, where the negative side effects of the changing climate are felt daily, people feel like we can act ourselves to turn the tide and make the earth healthy and green again. However, there is also still some work to do: A quarter of the Dutch youth (18-35) still does not believe in climate change and a third of the Dutch people do not feel like there is a relation between the recent natural disasters and climate change. Raising awareness about the changing climate and especially the solutions to halt it, therefore, remain of great importance. And that is exactly what we are doing at Justdiggit. With our awareness campaigns we aim to show millions of people that when we work together, we can regreen and cool down the earth. Are you joining as well? Dig in!
References
1. Havas Media, MSI-ACI Europe BV & Justdiggit (2021). Baseline report: Attitude of Dutch citizens towards climate change & climate change-related non-profit organizations. (N=504)
2. Havas Media, MSI-ACI Europe BV & Justdiggit (2021). The attitude of citizens in Germany, the UK, and the Netherlands towards climate change & climate change related non-profit organizations. (N NL= 258 N DE= 509 N UK= 502 )
3. Havas Media, MSI-ACI Europe BV & Justdiggit (2021). The attitude of citizens in Kenya and South Africa towards climate change & nature-based solutions. (N SA= 269, N KE= 272)