March 2, 2022
Digging in with shovels of clay
Our Amsterdam office has welcomed a new and exciting art piece: A clay sculpture by artist Martin Pottjewijd. The creative process of the sculpture emphasizes the mission of Justdiggit: to cool down the planet by regreening the mother continent of Africa. This is translated in the sculpture through symbols that are important to Justdiggit and our work: shovels, the growth of trees, and a green fist. Martin also wanted to highlight the force of nature and that everyone, regardless of age, can contribute to regreen the earth.
About Martin
Martin is a clay artist and graphic designer based in Drenthe, The Netherlands. His projects lie within an array of fields, including clay work and graphic design for companies, but also for those who are looking to give someone a meaningful piece of art. Many of his pieces are shared on his website or social media where the making of and process behind the art pieces are told. Making the world a little more colorful with art that inspires others.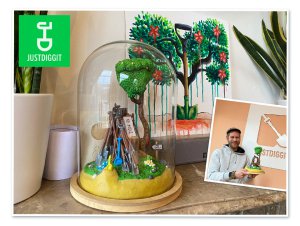 Importance for Justdiggit
After seeing the documentary 'De man die de wereld wilde veranderen (The man who wanted to change the world)' about Peter Westerveld (co-founder of Justdiggit), Martin found himself searching for creative solutions that could eventually lead to a bigger change. After many years of following Justdiggit and our journey, the puzzle pieces were finally put together when Martin came up with the idea to donate a unique art piece that tied in with the work and mission of Justdiggit. Ideas turned into creations and after a creative journey, Martin brought the sculpture to our office in Amsterdam, where it was given a beautiful spot on the mantel.
We're digging
The idea behind the sculpture titled 'We're digging' came from Martin's own strive for urgency and need to contribute to something bigger. He describes it as wanting to help more significantly with his artistic abilities, by placing an art piece in an environment that directly influences the people who aspire change.  The sculpture depicts a piece of land decorated with flowers and stones, and a throne of shovels around a tree stem; the tree has a branch with a crown in the shape of a fist. There are also two signs by the tree, one of which reads "We're digging, take a shovel and join us", while the other points at the shovels with the text reading  "Free shovels".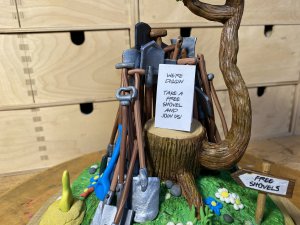 Creative tools to promote change
Martins' contribution to Justdiggit is a great example of how you can help contribute to the regreening movement in a creative and forward-thinking way. At Justdiggit, we are always eager to seek new and innovative opportunities for change-making, and hopefully, we can encourage you to do the same!  
This is The Decade of Doing. Are you digging in?