February 25, 2021
Digitally reaching millions of farmers with our new partner: KaiOS!
Digitally reaching millions of farmers with our new partner: KaiOS!
We are excited to have started a collaboration with KaiOS that enables us to bring our Regreening skills to the phones of farmers. With KaiOS as our new partner, we can scale up regreening and at the same time close the digital divide!
Scaling up through technology
The UN has declared the coming 10 years as the Decade on Ecosystem Restoration because we are in a hurry to save the planet. By restoring degraded land, we can restore ecosystems and start to reverse climate change. To make this happen we need to maximize our impact and scale up! We are on a mission to empower millions of subsistence and smallholder farmers in sub-Saharan Africa by 2030, and to regreen all restorable land in Africa together. By combining landscape restoration techniques with the power of media communication, data and mobile technology, we can reach millions of people. With the help of KaiOS we can even reach those farmers and pastoralists that currently don't have internet access.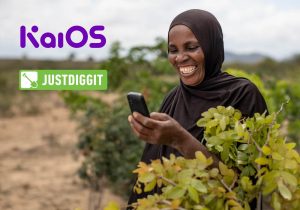 KaiOS uses technology to empower people
Billions of people around the world don't have access to the internet. Smartphones are expensive and data plans cost too much. KaiOS brings Wi-Fi, GPS, apps and other features to phones that are affordable and easy to use: smart feature phones. This way they can empower people around the world through technology, opening up new possibilities for individuals, organizations and society. Their platform, which can be compared with Android and iOS for smartphones, is the leading operating system for smart feature phones with 140 million + devices shipped in 150 countries. Phones running on the platform require limited memory, while still offering a rich user experience through access to apps like Google Assistant, WhatsApp, YouTube, Facebook and Google Maps. Pretty soon the Regreen App can be added to that list!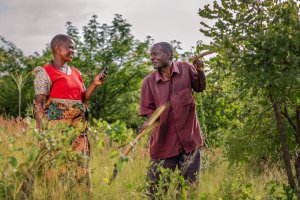 The Mobile Regreening Platform
To spread the word about regreening among farmers and pastoralists, we developed a first version of the Mobile Regreening Platform, a Regreen App. The app will inspire, educate and activate farmers to regreen their land and improve their lives. They will be able to access tips and tricks on how to regreen their own land,  directly from their smart feature phone. Ancient regreening techniques meet smart technology! With affordable KaiOS enabled devices we are able to connect farmers in rural Africa to the internet for the first time. We are currently running a pilot with local partner LEAD Foundation and 300 farmers in Dodoma, Tanzania. They are testing the Beta version of the Regreen app so stay tuned for an update