October 18, 2023
We completed our very first movie roadshow in Madagascar, and it was a great success!
Our roadshow project consisted of 1,900 attendees spanning four villages. One of the essential elements of the roadshow is for our audience to gain knowledge on multiple things, such as ways to safeguard natural habitats, enhance biodiversity, and, overall, empower local communities through sustainable forestry practices.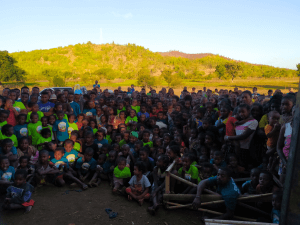 Of course, apart from all the learning, there was a lot of time for fun, music and culture as well! There were local contests involving singing and even poetry, all on the theme of regreening. We also organised engaging Q&A sessions about the film, where participants could share all the knowledge they gathered about bettering the environment.
As a token of our appreciation, we distributed over 1,220 commemorative t-shirts representing the mural design that was created in collaboration with Havas South Africa; this symbolizes our harmony with nature and our want for a greener and stronger environment.
We are also excited to inform and share our plans to extend the roadshow series in Madagascar, Togo, and Ethiopia!