November 4, 2022
Justdiggit launches on The Community Channel, an initiative of JCDecaux UK
In February 2022 JCDecaux UK rolled out The Community Channel, an initiative that gives the not-for-profit community and charitable projects access to digital Out-of-Home advertising around the UK. This means more awareness for initiatives that want to make this world a better place, including Justdiggit!
What if public spaces provided an environment that encourages visitors to switch to reusable bottles, to be more open towards gender diversity or to start regreening? The Community Channel is doing just that! It displays campaigns from the not-for-profit community that are in line with JCDecaux's purpose and values. Think of giant public screens in malls, city centres or railway stations telling powerful stories that benefit communities, the environment and good causes.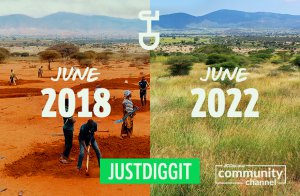 Justdiggit is one of the many wonderful organisations that are displayed on The Community Channel in the UK. To find out more click here.
Giving back
JCDecaux aims to amplify Out-of-Home's role as a force for good in the community. That's why an estimated 50p in every pound spent on all Out-of-Home advertising goes back into the community. This goes through the provision and maintenance of public services such as bus shelters, public toilets, bins and benches. Or through providing revenue streams to Council and Transport partners or initiatives such as The Community Channel.
Loyal partner
JCDecaux has been a loyal partner of Justdiggit for many years. Thanks to their support our campaigns are displayed through Africa and Europe, inspiring people to start regreening and cool down our planet! Being part of The Community Channel means that our ads that communicate the impact of nature-based solutions in sub–Saharan Africa have been screened across London, Edinburgh, Manchester, Sheffield and many other locations around the UK.
Chris Dooley, Head of Social Impact at JCDecaux UK: "The Community Channel creates real value through the power of the public screen and aims to amplify Out-of-Home role as a force for good in the community. We are proud to be working with Justdiggit raising awareness and engagement around this important message."