March 31, 2022
Justdiggit wins share of Drops in the Ocean
Justdiggit have been awarded a share of outdoor advertising space worth £2 million from Ocean Outdoor, as part of the Drops In The Ocean programme.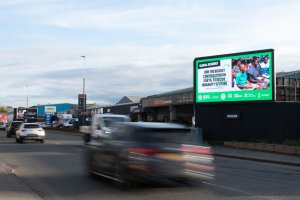 Justdiggit is one of just six chosen charities to receive funding in recognition of our work helping to protect the future of the planet. As part of the year-long initiative, campaigns created by each of the awardees will appear on large-format city and roadside screens across the UK – all of which were developed and approved over the course of a month-long Drops in the Ocean creative pitch process.
We will activate our audience through this provided media space by encouraging others to join the Regreen Revolution in helping to restore local ecosystems.
Ocean chief marketing officer Richard Malton said:
"Ocean has to be at the forefront of initiatives like these because outdoor advertising has an undeniable physical and environmental impact, and because our success depends on the strength of our relationships with the communities where we live and work. The causes we are supporting here ultimately impact us all."
Stuart Taylor, UK Country Director, Justdiggit said:
"We are delighted that Ocean Outdoor has chosen to support us. Not only do we run regreening programmes to restore desertified soil in Africa, but we place great value on positive storytelling and communication, which is why access to Ocean Outdoor screens is so valuable. We are so grateful and can't wait to get started on the partnership!"