April 5, 2022
Meet our newest partner: Vandinter Semo
Justdiggit has established a new partnership with Vandinter Semo, a Dutch seed company with over 100 years of experience in the field. With their expertise, they will support Justdiggit's grass seed banks in Kenya and make our regreening projects even more efficient and impactful.
Inspired by our grass seed banks
Recently, Vandinter Semo, came across the "3 op reis" documentary and was enthusiastic to learn about our projects and specifically the work with our grass seed banks in Kenya. As they were watching the Maasai women harvesting the seeds, Vandinter Semo immediately spotted opportunities to make our practices more efficient with their expertise. After a meeting with the company director and visiting their office and seed breeding station, Justdiggit is proud to now be able to announce a new partnership with them!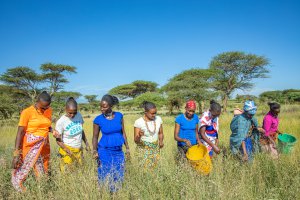 Supporting Justdiggit with grass seed expertise
Vandinter Semo has already started off their work with Justdiggit by analyzing grass seed samples from Kuku, Kenya in their own laboratory. Through their analysis, they will examine the quality of the seeds and evaluate the germination rate. In the coming years, the company will continue to support Justdiggit with practical tips, knowledge, and advice on grass seed production, harvesting, storage, and seeding. It sounds like this partnership is off to a great start!
Vandinter Semo: An all-round expert for seeds
With over 100 years of experience in seed production and trade, the company Vandinter Semo, based in Scheemda, Groningen has made it its mission to contribute to healthy and sustainable crop cultivation.  Nowadays, the company has become one of the largest producers and processors of seeds in the Netherlands and has also found its way into the international sector. While seed production and trade continue to be their most essential tasks, their services also include seed cleaning, seed coating, seed packaging, and putting a focus on green fertilizers. Their successful work is also possible through their own high-quality laboratory. 
Vandinter Semo shares several values with Justdiggit and they "believe fervently in the strength and resolving power of nature itself". For example, Vandinter Semo aims to reduce CO2 emissions through the development of innovative seeds, focuses on green fertilizers in the form of crucifers, and emphasizes the importance of healthy soil.