May 17, 2022
New German ambassador: besteller author Frank Schätzing
To cool down the planet and restore our planet's ecosystems as fast as possible, we need to spread the awareness of nature-based solutions to as many people as we can. Thanks to the incredible support of our new ambassador Frank Schaetzing and our partners Havas, Stroeer and Harvard Engage!, we are able to #Digin together and do exactly that.
Introducing our Ambassador, Frank Schaetzing
Our latest campaign features best-selling author and climate-action advocate Frank Schätzing. As a well known and knowledgeable ambassador, Frank is the perfect person to spread the word about Justdiggit. He deeply shares our concerns about climate change, and has the positive, solutions driven approach required to face this challenge.
Frank has written both fiction and non-fiction best sellers, including 'The Swarm' and 'What if we just saved the World? How to Act in the Climate Crisis'. 'The Swarm is a science-fiction thriller highlighting human beings' impact on our oceans and the potential disasterous consequences of this. It is soon to be made into a German television series, so stay on the lookout as it is sure to be excellent!
'What if we just saved the World?' is Schaetzing second non-fiction work, and writes the current situation of a global climate crisis into the actual thriller that it is. The book reflects Frank Schaetzings positive, action orientated approach to dealing with crisis, emphasising the fact that Climate Change is a challenge that we have all the tools to deal with, if only we would act. Frank's books and interviews are always based on well researched scientific fact, and reflect his deep knowledge and passion for these topics.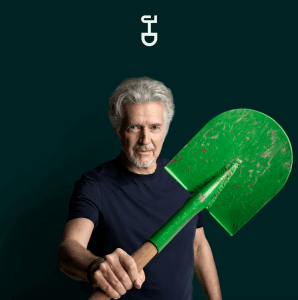 Welcome Frank to the Justdiggit family!
Working together with our Partners, Havas Germany, Ströer and Havard Engage! to spread the Word
Thanks to our incredible partners in Germany, we can quickly spread the message that a greener world is a cooler world to the public on a large scale. It is great to see so many businesses in the private sector recognise the urgency for action on Climate Change, and the need to implement and build awareness for solutions now, in order to combat it.
Out of Home exposure
Ströer Media is Germany's largest out-of-home media-space providers. You have definitely seen their info-screens out and about before, brightening up a trip home on the train or sharing interesting facts about the city in which you live. Ströer has been supporting Justdiggit by offering their media space for our awareness campaigns, helping us to scale up knowledge for climate solutions across Germany.
Alexander Stotz, CEO Ströer Media Deutschland GmbH: "We are convinced of Justdiggit's mission and have already supported the initiative's previous campaigns with a wide reach. With our outdoor advertising media, we reach millions of people and can thus make sustainable commitment and good, tangible ideas like those of Justdiggit visible to everyone."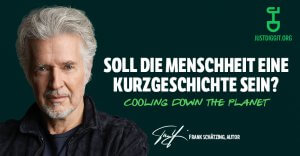 Our Havas family
Havas Germany – both media and creative, have been supporting Justdiggit since 2019 with their creative and marketing expertise. In working together with Havas, we are privy to the exceptional creativity and drive their teams give to their work. We are immensely grateful for their support and help connecting us with like-minded businesses that recognise the importance of nature-based solutions.
Eric Schoeffler, CCO Havas Germany & ECD Europe: "Justdiggit has been a matter of the heart for Havas in Germany for three years now. We live the positive spirit of the motto "Dig In", simply do it, in our agency and we want to convey it equally with the campaign. That Frank supports us in this makes me personally very proud. And not only because we both come from the Cologne advertising scene, but because Frank is simply a clever and courageous person who – after Thomas D. – gives our movement the highest possible credibility in Germany."
New partner: welcome on board!
As of this month, we have also been working together with Havard Engage! who are contributing their press and public relations experience to Justdiggit's campaigns in Germany. Harvard engage shares our hands-on and active stance in confronting Climate change, thank you so much for your support!
Oliver Sturz, founder and managing director of Harvard Engage! Communications: "We already have an "Engage" in our company name. Justdiggit's hands-on mission and sympathetic commitment therefore fit us one hundred percent. Getting involved in doing good, carrying on the Justdiggit idea and thus motivating people for climate protection – this is a matter of the heart that we would like to carry on."