March 2, 2018
Next phase in Kenya!
Next phase in Kenya!
In the documentary Seeds of Change you saw the first re-greening results of the Justdiggit projects in the south of Kenya. Of course, we like to expand this success further! Therefore we entered the next phase together with our partners Maasai Wilderness Conservation Trust (MWCT) and the Amboseli Ecosystem Trust (AET). This means new projects that consist of a combination of interventions, including digging thousands of water bunds and starting grass seed banks.
The bunds ensures rainwater harvesting in desiccated areas, allowing vegetation to return quickly. This technique has already been applied on a large scale in our previous projects and proved to be extremely successful! The water bunds are part of a larger Olopololi plot, in the Imbirikani Group Ranch, where by grazing policy the Maasai are provided with dry season grazing grounds.
But these are not the only new activities in our project areas in Kenya! By helping to set up new grass seed banks in Inkisanjani and Enkii, local Maasai women's groups can supplement their income, while re-greening their living environment.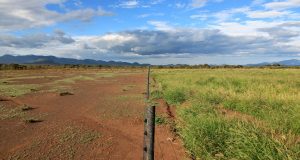 Furthermore, new exclosures are under development within the Amboseli National Park where certain pieces of land are fenced and protected thereby allowing trees to return. See how successful this technique can be!
Because of the proven success of the previous projects, the community was very open and welcoming at the start of the program.