November 11, 2022
Breathtaking satellite images: new partnership with Planet Labs PBC 
We've got great news from space!  Thanks to our partnership with Planet Labs PBC  we can quantify the impact of our regreening projects through satellite images and data, providing scientific credibility to our nature based solutions.
When you walk through tall grasses in an area which was barren before, the impact of our regreening projects is obvious. But it's hard to capture that impact in quantifiable metrics that people can relate to, like 'liters of water retained', 'degrees celcius of cooling down' and 'changes in biomass'. That's where Planet Labs PBC comes in, a leading provider of daily data and insights about Earth.With Planet's high-resolution SkySat satellite tasking capabilities and their Planetary Variables data we can quantify, evaluate, and scale Justdiggit's regreening projects. This cutting-edge technology provides scientific credibility and concrete metrics for nature-based solutions.
Tangible change on Earth
Over the last year we launched the Restore-IT project, together with Planet Labs PBC, the European Space Agency (ESA) and the University of Leicester. It's focused on evaluating and quantifying the success of our regreening initiatives. We leveraged Planet's PlanetScope and Planetary Variables products to measure the impact of our restoration sites in Tanzania and Kenya.
Planet Labs PBC: "We have the technology to measure real tangible change on this Earth. This helps us better understand how human actions can bring about positive shifts in our environment. By getting this satellite data into the hands of communities and stakeholders on the ground in Africa, we're seeing entire ecosystems transform and documenting that transformation with solid metrics over space and time."
Monitoring long term impact
On the ground, pastoralists live with their livestock while wildlife, like zebras and gazelles, graze on the newly sprouting grasses from the bunds. Planet's SkySat imagery captures the scale of the landscape regreening over months, while their Planetary Variables datasets help evaluate where regions are having success – lending scientific insights for the improvement of future projects.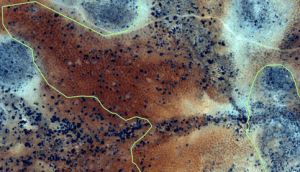 Sander de Haas, Chief Technical Officer and Regreening Expert at Justdiggit: "I focus on site selection, trying to identify from a remote sensing analysis which sites are suitable for our types of interventions. By having access to SkySat data, we are able to task imagery of the site. If indeed, this is an interesting site, we then send out a team to check on the situation on the ground, take samples, and talk to the community."
"The key is showing our long term impact at landscape level," continues Sander de Haas. After building long-term relationships and partnerships in the region, we spearhead landscape restoration and community education.
These datasets and satellite images show the tangible progress our initiatives have on the landscape of Kenya and Tanzania. And this is just the beginning! We aim to scale our regreening programs to millions of farmers. Together with our partners like Planet Labs PBC, we can make significant strides to regreen Africa, support sustainable livelihoods, and combat the climate crisis. We show that solutions do exist by working together, and you can see this with your own eyes from outer space!