June 30, 2021
Regreening 100 million m2 with Gerdes + Landwehr through 'Green Your Fleet'
Justdiggit to regreen 100 million m2 of dry land with Gerdes + Landwehr through Webfleet Solutions' 'Green Your Fleet' platform
In October 2020, Justdiggit and Webfleet Solutions (Bridgestone Mobility Solutions) launched the Green Your Fleet platform*. The platform allows customers to calculate an estimate of their annual CO2 emissions based on their fleet size and vehicle types. As well as that, the tool allows customers to offset their emissions by supporting Justdiggit to regreen dry lands in Africa, making a real impact on climate, nature, and people.
Because Justdiggit's regreening programs impact more than just CO2 levels, the platform also shows how many square meters will be regreened, how many trees will be brought back, how much water will be saved, and how many local people will be empowered – all by the same contribution.
Recently, the German logistics, building, and construction company Gerdes + Landwehr joined the Green Your Fleet movement to offset its fleet's CO2 emissions. Through Justdiggit's programs, Gerdes + Landwehr will bring back more than 400,000 trees and regreen a total area of 100,000,000 m2 of dry land in Tanzania over the next 5 years, an area over 2.5 times the size of Berlin's city center!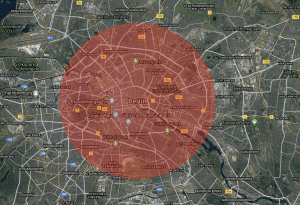 The aspiration of the company is to operate its fleet on renewable energy as soon as possible. "We would like to switch to hydrogen-powered vehicles, but options for heavy trucks are still limited. The partnership with Justdiggit offers us the possibility to offset our emissions in the meantime and make a direct positive climate impact by restoring nature while also empowering local communities," Landwehr said.
Wessel Koning, Business Development and Partnerships Director added "We are really excited about this new partnership with Gerdes + Landwehr that will support us in our efforts to cool down the planet. It's great to see that the Green Your Fleet platform is inspiring and involving companies in the transport sector to join us in the regreen revolution and we hope that the user-friendly platform will gain even more traction in the future."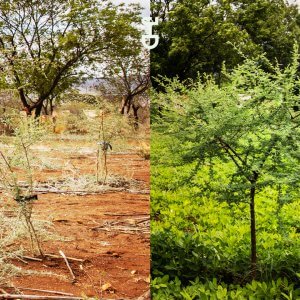 Interested in joining this regreen revolution on the road? Send an e-mail to partnerships@justdiggit.org
* The Green Your Fleet platform by Webfleet Solutions (Bridgestone Mobility Solutions) supports fleet customers in offsetting their carbon emissions by restoring nature.