June 8, 2023
Clean up your act with The Good Roll and Justdiggit's regreening toilet roll
The Good Roll is a company that sells 100% tree-friendly toilet rolls, made from recycled paper and wrapped in plastic-free packaging. Their mission is simple: safe and clean toilets for everyone. With 50% of their profit, they build toilets in various African countries. Together with The Good Roll we are releasing our very own toilet roll!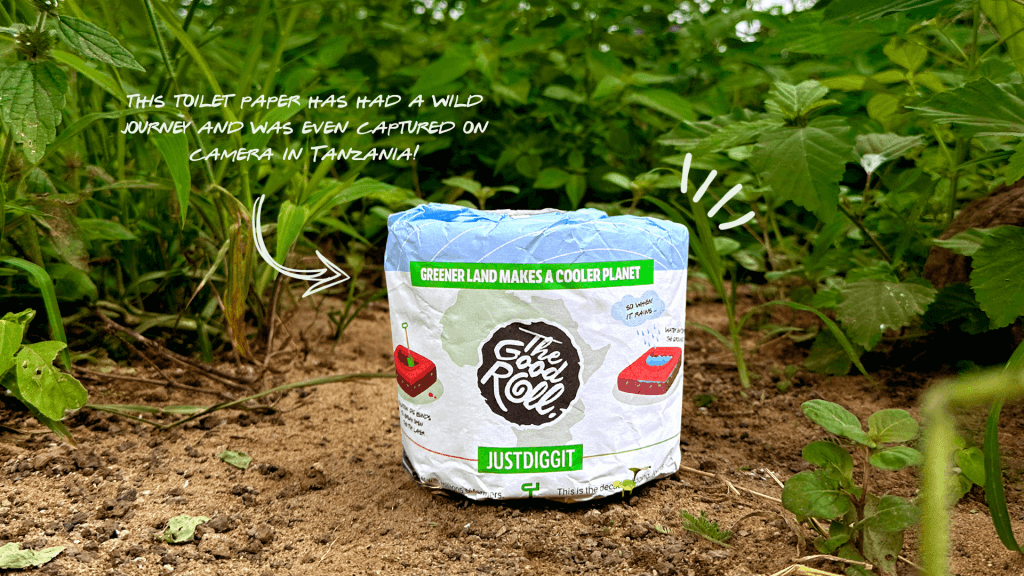 Together with The Good Roll, we offer a unique (and perhaps somewhat surprising!) way to dig in for our planet. The Good Roll created a special Justdiggit toilet roll that not only gets the job done smoothly, but also helps to regreen and cool down our planet. With each order of the Cheerful Choice Box, containing our special Justdiggit rolls, or the Wrapless Choice Box, you'll help regreen 17 square metres of land in Tanzania. This collaboration spans from June till August. Talk about cleaning up your act!
In case you're not yet familiar with our regreening projects or need a little reminder, we included an explanation of our most well-known regreening technique on the rolls: the digging of bunds. This way you can do your business while learning about ours. In Africa we regreen on a large scale, completely transforming dry and degraded land into lush, green and climate-resilient landscapes – an absolute must if we want to cool down our planet and secure the livelihoods of millions of people around the world!
If you want to know more about our regreening techniques, you can read all about them here. And if you want to support the work we're doing, that's super easy: just order your The Good Roll Cheerful Choice or Wrapless Choice boxes now and dig in! Wipe right, change lives.