July 12, 2021
The Grand African Green Up
The Grand African Green Up
A story about restoring 130 million hectares in the next 10 years
The Grand African Green Up documentary was released last month, announcing Africa's pledge to restore over 130 million hectares of degraded soil by 2030. The pan-continental initiative AFR100 is leading the way to reach this ambitious goal and Justdiggit is honored to promote their story with the documentary. The documentary features restoration icons such as Wanjira Mathai, who narrates this story, and has been written and directed by Earth scientist Safi Graauw.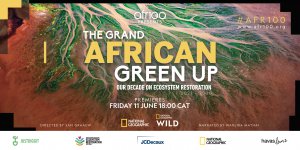 As described by National Geographic Africa, the Grand African Green Up is a documentary that "celebrates the remarkable, leading work of the African Forest Landscape Restoration Initiative (AFR100) being accomplished on the continent". The documentary showcases the work of AFR100 and Justdiggit, but also the hard work of the local communities in Kenya, Tanzania, Madagascar, Ghana, and Senegal. Through the amazing support of National Geographic Africa, 'The Grand African Green Up' aired last month on Nat Geo and Nat Geo Wild Africa in over 53 countries! All of our Out-Of-Home. (OOH) campaigns for this documentary were supported by our Pan African partner JCDecaux.
"The Grand African Green Up is a perfect complement to Planet Possible's call to action, and we hope that this television event will not only enlighten our viewers, but also inspire them in their own personal discovery of ways they can help make a difference.", as Evert van der Veer from The Walt Disney Company Africa perfectly put it.