September 12, 2022
Climate change affects the Kenyan rainy seasons (but we are still digging bunds!)
Due to climate change the rainy seasons in Kenya are shifting and rainfall has become (even) more sparse. These changes bring along some logistical challenges in regards to when we can start digging new bunds in an area.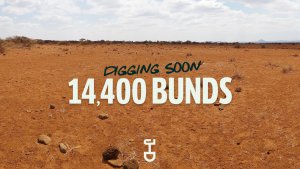 No rainfall means no green bunds. The good news is we've been anticipating these changing weather conditions in Kenya as much as possible. That's why we're ready to start digging again very soon.
From late September onwards, together with partner MWCT Kenya and 100 community members we will dig 14,400 bunds in Olorika (Kuku), Kenya. Just in time to capture the first rainfall of the season that is anticipated in November.
The bunds will be dug by 100 newly trained members of the Olorika community. The effects of regreening the area will eventually benefit way more people, but as the work itself has a financial benefit (people are getting paid per bund dug), we aim to work with different diggers for each project.
Once a new bund has been dug, it will be assigned (in chronological order) to an owner through our donation app. Did you purchase one or more bunds recently? Then you might be assigned to your very own piece of green very soon!
Please note: thanks to the amazing support of you and many others, more than 14,400 bunds have been bought. That's good news for the planet AND the diggers. But this might mean you will need to wait a little bit longer for your bund to be dug. If this turns out to be the case, we want to thank you for your patience and trust.