March 18, 2021
Great news: we started digging again!
Great news: we started digging again!
We picked up our shovels and started digging again in a brand-new project area: Inkisanjani, Kenya! In total, over 30,000 bunds will be dug in the area by 100 motivated community members. 
The Inkisanjani area
Inkisanjani is close to our previous bund project area Enkii and part of the Kuku Group Ranch. With 400 ha in size, there is lots of space to dig thousands of bunds within the area. And as our project manager Lenayia from MWCT demonstrates in the picture, this degraded, dry land is more than ready to be regreened!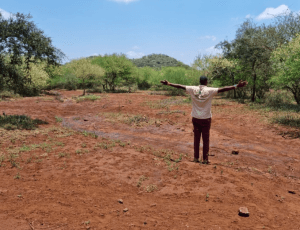 Meet the team
The 100 community members will be supported in the digging process by 10 fundi's (supervisors), several rangers, and our partner MWCT. This amazing team is going to make sure that the Inkisanjani area becomes lush and green again! In total, the diggers will dig over 30,000 bunds in the area. By capturing rainwater, these bunds will restore the water balance in the soil and ultimately regreen the whole area!
Would you also like to contribute to a greener and cooler planet? Buy your own bund here!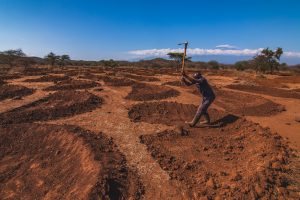 Photo credits: Tony Wild