September 22, 2016
Amboseli project is finished!
Amboseli project is finished!
We proudly announce the final delivery of our Amboseli re-greening project in Kenya within time and budget!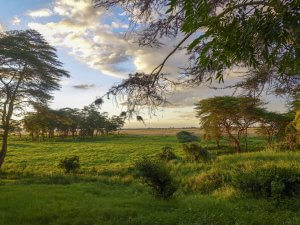 Together with our local implementation partners AET and ACC we re-greened 8km2 in the Amboseli national park through fencing of three woodland plots based on the David Western method and the implementation of eight so-called 'Olopololi' plots. These are grass plots were local communities learn to re-introduce traditional Maasai rotational grazing methods and where women are involved in planting grass seeds, monitoring, maintaining the plots and harvesting on maturity. Bunds have been created in one of these plots.
These plots have been a great success; local community adopted the method and voluntary extended these plots. The project directly benefited 300 people and indirectly benefits almost 5000 people, re-greened over 800 hectares by improved tree and grass cover, improved range-land productivity, late season reserve for livestock, biodiversity and reduced soil erosion.
Through this project we currently are the biggest funder for landscape restoration in the Amboseli National Park.
Due to a donation of the Dutch Flower Foundation we can continue the good work in Amboseli. With their gift a new grass seed plot is implemented and seeding in the created bunds will be funded.